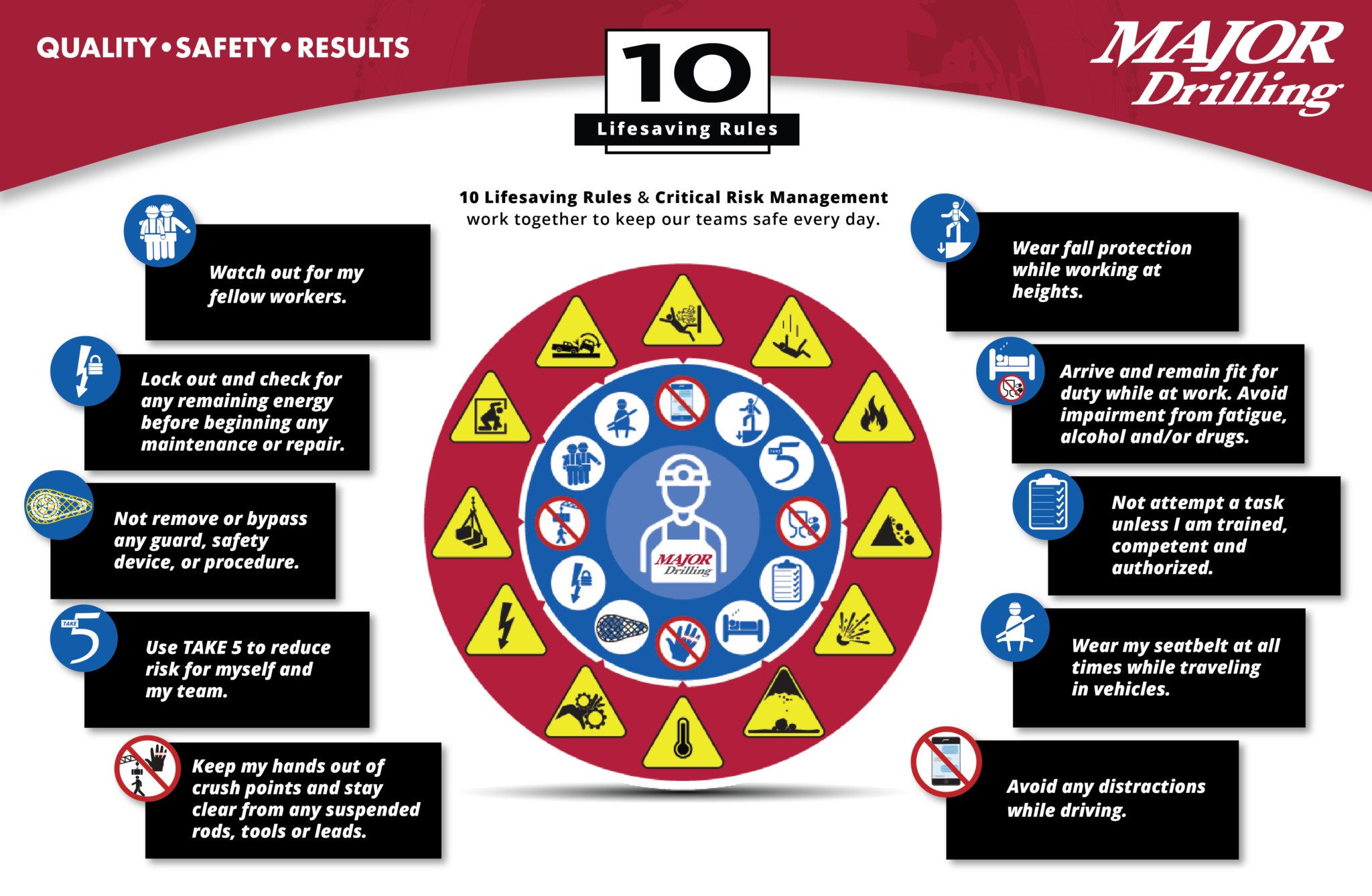 The Critical Risks Management program is designed to help every Major Drilling employee identify and avoid serious workplace injury.
Because safety is a core value at Major Drilling, workers on every shift, at every job, are trained to understand risks and employ programs dedicated to help every person return home safely each day.
In 2020, Major Drilling introduced a new Critical Risks Management initiative across all branches throughout its worldwide operations. Major Drilling owns more than 600 rigs with over 2,500 employees who excel at specialized drilling. Maintaining and continually updating universal, world-class safety programs is a top priority as the company is registered in 20 countries on six continents.
Safety is a foundational part of any successful drilling operation. The new Critical Risks Management initiative is taking prevention strategy to new levels. Major Drilling is known industry-wide for its focus on safety and has received multiple awards for hours without a lost-time injury, excellence in performance and strong partnerships.
What is CRM?
The Critical Risks Management program is the next evolution of Major Drilling's safety system and builds on two foundational initiatives—TAKE 5 and 10 Lifesaving Rules. In Major Drilling's Critical Risks Management program, every critical risk identified has a set list of critical controls. When an employee encounters a critical risk during their shift, they must stop and complete the corresponding critical control checklist.
TAKE 5, established in 2009, helps workers:
Think Through the Task
Look for the Exposure
Assess the Risk
Take Precautions
Do the Job Safely
The goal was to lower injury rates with marked success. In 2012, Major Drilling introduced the 10 Lifesaving Rules to further reinforce each worker's safety responsibilities as seen in the graphic below.
TAKE 5 and 10 Lifesaving Rules build upon one another to help improve overall injury rates. Yet, a concerning trend persists—total injuries are down, but serious injuries continue to occasionally occur.
So, Major Drilling aims to eliminate serious injuries through its Critical Risks Management program. The program rolled out in late 2019, and in 2020, is implemented at every Major Drilling location.
How It Works
Drilling is part of an industry with inherent risks. Tasks must be continually monitored to control those risks. For example, working at heights requires the need for a safety harness. The CRM program identifies risks like falling and suspension trauma, then identifies equipment and training required to prevent these risks from becoming a reality. Safety measures such as harnesses, training, securing devices, and towering down are critical controls that help keep Major Drilling team members working at heights stay safe.
If critical risk is present, the CRM program creates space to stop and complete a critical control checklist. These controls teach and require a person to complete the task safely.
Additional safety measures involve managers and supervisors who use critical control verification checklists to observe and document tasks. When a worker sees a yellow icon on the jobsite, they know that task represents a critical risk. Through training, workers learn how to safely mitigate the risk.
It is Major Drilling's goal to reduce risks on tasks where mistakes can be deadly. By using the TAKE 5, 10 Lifesaving Rules and Critical Risks Management programs together, our teams are doing all they can to come home safely at the end of each shift.
When a critical risk such as working at heights creates a fall risk, the CRM program points a worker to the critical control, such as using a safety harness, to mitigate the risk of serious injury on the job.
A Culture of Safety
CRM is part of the ongoing culture of safety at Major Drilling. In 2020, Major Drilling received its third consecutive Safe Day Everyday Gold Award from the Association for Mineral Exploration and the Prospectors & Developers Association of Canada. Results of impactful safety improvements are apparent with industry accolades recognizing millions of hours of work without lost-time injury.
Major Drilling has received many safety and industry awards over the past decade and beyond including:
Best Drilling Company – Mongolia Drilling Association 2019
Safety Performance Achievement and Recognition Indonesia 2018
National Drilling Association (NDA) Award 2017
Safe Day Everyday Gold Award Canada 2017
Cameco Global Safety First Award Canada 2014
Cameco Global Safety First Award Canada 2013
Cameco Global Safety First Award Canada 2011
Supplier Award – Peabody Winsway Resources 2010
Cameco Global Safety First Award Mongolia 2010
Best Safety Contractor – Oyu Tolgoi (Rio Tinto) 2009
Joined with TAKE 5, the 10 Lifesaving Rules, and Major Drilling's ongoing culture of Safety in Action, the CRM program provides controls deemed necessary to prevent potential fatalities, serious incidents and/or injuries that come from most common hazards and risks encountered in daily business tasks.
Learn more about how Major Drilling's commitment to safety and the Critical Risks Management program can be part of your next drilling project by contacting Kevin Slemko, Corporate Business Development Manager.